Providing Tax, Accounting, & Consultation Services for Businesses and Individuals
Mission Statement
Malvern Tax & Ledger, Inc. provides clients with proactive and timely tax preparation, tax planning, and bookkeeping & accounting services that alleviate worry and minimize the tax burden.
What We Do
Malvern Tax & Ledger, Inc. offers personalized tax planning, tax preparation, and bookkeeping & accounting services for businesses and individuals who appreciate a customized approach to their tax and accounting needs.
Our Core Principles
Expertise
Our clients are both individuals and businesses and we recognize that they rely on us to be experts in the tax accounting field. Our commitment is to provide our clients high quality advice and service that would be expected from an expert in the field. We are committed to remaining current on the most recent tax legislation, and to hiring and retaining capable, responsible employees.
Customer Service
As a small business ourselves, you can expect superior and individualized customer service from our entire team at Malvern Tax & Ledger. Our staff will go above and beyond to ensure your accounting and tax preparation needs are met in a timely manner.
Accounting with accountability
We understand the importance of good communication with our clients and their respective agents. We also recognize the importance of timely work and honest advice. Our goal is to provide our clients with an enjoyable, professional and informed experience with all of our services.
Systemization
Many industries have been enhanced by the implementation of standardized, efficient systems and procedures. Malvern Tax & Ledger, Inc. believes that the use of policy and procedure combined with the use of technology increases the efficiency of our clients' businesses and the production of our firm. Indeed, Malvern Tax & Ledger, Inc. strives to use systems and procedures both internally and externally with clients, and continually explores improvements and innovations in systems and technology to provide a superior service.
Value
Malvern Tax & Ledger, Inc. believes in putting the interests of our clients first and providing a year round service to help minimize the tax burden for individuals and businesses. Our clients can rest assured they are receiving the best service at a great price.
Team at Malvern Tax & Ledger, Inc.
Our firm is comprised of qualified, experienced and well trained professionals who keep up with changes to the tax code.
Meet Nivé
Nivé
Dhanak enjoys taking the headache out of tax planning, preparation and accounting/bookkeeping. She enjoys working with businesses and individuals in a collaborative effort.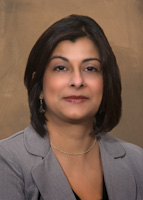 She specializes in financial statement preparation, income tax planning and preparation, tax problem resolution and new business start-ups.
Nivé started her career in the accounting field in 1988 with George Hay & Co., a company based in Bedfordshire, England. She earned her degree in accounting while working with the firm and gained valuable experience in auditing and preparing management and financial reports for the small business sector. Since moving to the US in 1996, Nivé has worked with many small business entrepreneurs, from startups to established operations. Indeed, she has seen many of her clients all the way to retirement. Nivé has extensive tax preparation and planning experience and servicing the financial and tax needs of businesses in various industries interested in building a successful organization. She has also helped individuals looking to build wealth.
Nivé is an Enrolled Agent (EA). EAs are the only federally licensed tax practitioners who specialize in taxation and also have unlimited rights to represent taxpayers before the IRS. Enrolled agents advise, represent, and prepare tax returns for individuals, partnerships, corporations, estates, trusts, and any entities with tax-reporting requirements. They are experts in the ever-changing field of taxation.